Guernsey Harbours fees rise 'to impact all', says freight operator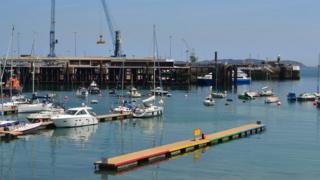 Potential increases to fees at Guernsey Harbours would mean price rises for all imported goods, says a freight firm.
Guernsey Harbours said charges needed to rise to fund a £190m upgrade to facilities over 10 years.
She said the rises would either be unilateral or targeted at areas that are currently cheaper than elsewhere.
"[But] any additional charges would be very bad for our industry and the island in general," Martyn Langlois, of Ferryspeed, said.
"I'm not saying the harbours don't need improvement because I think they do, but any significant increases are not to be welcomed, putting it mildly."
Sarah McGreevy, director of Guernsey Harbours, said investment must be made to ensure the island's valuable lifelines are fit for purpose.
She said: "Our operating costs are currently £7m a year, we currently generate a surplus to cover our operating expenditure, but it is insufficient."
Public Services Minister, Paul Luxon, said: "98% of all the things we consume, not just food but all the things we buy, come in through the harbours every year so it's massively important to us all.
"To quote the previous harbour master, St Peter Port Harbour is a 19th century structure using 20th century practices to deal with 21st century demands."
---
Guernsey Harbours
St Peter Port marina hosts more than 10,500 visiting yachts every year
Cruise ship passengers inject £5m annually into Guernsey's economy
Every year, 330,000 tonnes of supplies go through the island's harbours
It provides and maintains more than 1,750 car parking spaces
It offers 1,650 moorings for local boat owners
Source: Guernsey Harbours
---
Peter Derham, Guernsey Boatowners' Association president, said: "There's no way as an association we're going to stand by idly and let the authorities of this island drive the small boat owners off the water."
Public meetings are due to be held during a consultation, which runs until 17 November, on how the upgrades should be funded.
The plans include new offloading facilities for fuel, new or upgraded passenger facilities, a new Port Signal Station, dredging St Peter Port Harbour and upgrading visitor facilities.