HMS Victory 1744 shipwreck: Artefacts to be recovered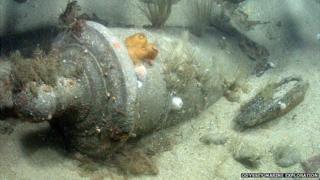 Artefacts from the shipwreck of HMS Victory, which sank in 1744, can be recovered to save them from damage.
More than 1,000 sailors drowned when the British warship, the predecessor to Lord Nelson's Victory, sank in a storm.
The decision to allow "at-risk surface items" to be recovered was announced by the UK Secretary of State for Defence, Michael Fallon, earlier.
However, work will not go ahead until a licence has been issued by the Marine Management Organisation.
The recovery will be carried out by the Maritime Heritage Foundation, which was gifted the wreck in January 2012.
Since then the site has been regularly monitored - including looking at the risk of damage from commercial fishing, natural erosion and illegal salvage.
The wreck was found in 2008 by Odyssey Marine Exploration, which is working with the foundation.
Its discovery exonerated Admiral Sir John Balchin, who came out of retirement to command the ship, on what was meant to be his final voyage.
It was believed the ship sank after it hit the Casquets, a group of rocks north-west of Alderney, due to poor navigation.
However, as the wreck was discovered 62 miles (100km) away from the rocks it suggested the 74-year-old admiral was not to blame.
In his written statement, Mr Fallon said artefacts recovered from the wreck will form the Victory 1744 Collection, which would be managed in line with the UK Museums Association's Code of Ethics for Museums.
The collection would include recent site plans, drawings and photographs.
It is not yet known where the collection will be displayed, but the aim is for it to kept together.
The Maritime Heritage Foundation has released a mitigation strategy for the site, which said: "Activities at the wreck site will avoid the unnecessary disturbance of human remains. Wherever possible, human remains will be left in situ."
Lord Lingfield, its chairman, said: "HMS Victory (1744) is the only wreck of a first rate English warship discovered under water anywhere in the world and the Maritime Heritage Foundation is privileged to be leading this historic project."
The Tory peer, formerly known as Sir Robert Balchin, is a relative of Admiral Balchin.
Mr Fallon said: "The government is satisfied that the project will be managed in accordance with best practice and will ensure that important artefacts from this unique part of our maritime history remain together for the future appreciation and education of all."