Guernsey's Little Chapel 'cracking up'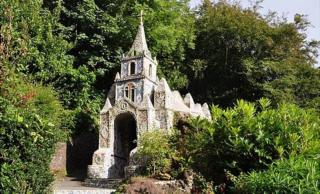 Cracks have appeared in what is believed to be the smallest functioning chapel in Europe.
The Little Chapel, in Les Vauxbelets, St Andrew, Guernsey, measures 16ft (5m) by 9ft (3m) and is believed to be the world's smallest consecrated church.
Cracks have appeared in the structure due to subsidence, according to the group that maintains the site.
The Blanchelande College Charitable Trust has started investigations into what repairs need to be carried out.
Andrew Warren, from the group and head teacher of neighbouring Blanchelande College, said it was not yet clear how much the work would cost, but he expected to have to appeal to the public for funds to carry it out.
He said: "It's a landmark building for Guernsey, in fact it's iconic for Guernsey, it's really important it's maintained.
"Being on the side of the hill inevitably there is some movement.
"The nature of the structure of the building is that it's not really a very sound structure as a lot of it is built basically either of mud or clay, so there's going to need to be some major work there in terms of reinforcing it."
The Little Chapel
Is the third and largest of three built on the site
The original was built in 1914 by Brother Deodat and was 9ft (3m) by 4.5ft (1.4m) wide. He demolished it following criticism
He built a second within four months, which measured 9ft (3m) by 6ft (2m), however, when the Bishop of Portsmouth visited in 1923, he could not fit through the door.
Brother Déodat again demolished his creation and started to build a third, but went to France in 1939 and died there having never seen the finished chapel
He collected pebbles and broken china to decorate the shrine
After work had begun, the chapel received media attention, and donations came from around the world including a mother of pearl from Guernsey's lieutenant governor