Sark's government 'needs more reform' say campaigners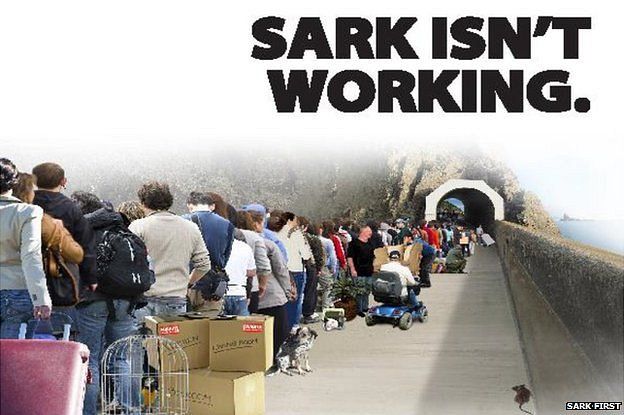 A campaign to "unify" Sark has been launched by a group claiming to have the support of many of the island's 600-strong population.
Sark is run by Chief Pleas - made up of 28 Conseillers, a president and the seigneur, a hereditary title.
The island's government underwent significant reform in 2008.
The group called Sark First wants these reforms repealed and replaced with an alternative electoral system.
It describes itself as: "A group of Sark residents who recognise the need to find a solution to the political disenfranchisement of a sizeable minority of the electorate on Sark.
"It is their belief that until such a time as a solution is found the island will continue to depopulate and the economy will deteriorate to a point of no return."
The group has sent postcards to island households, which feature doctored photos and the same written message.
It said the group aimed to put "an end to the divisions that are tearing the island apart" and that "presently it is impossible to get representation for all islanders".
For 450 years, Sark's parliament consisted of a 54-member chamber that included the seigneur, the seneschal, 40 tenant members and 12 deputies
A new constitution was adopted in 2008 prompted by the Barclay brothers, who said the previous one did not comply with the European Convention on Human Rights
A 30-member chamber was introduced, with 28 members elected in island-wide elections, including the seneschal and seigneur
The role of seigneur, or lord of Sark is a hereditary title and the office holder has a seat in Chief Pleas
In 2013 the role of seneschal split into two distinct offices of chief judge and president of Chief Pleas
Sark residents Robert Knight, Tony Le Lievre and Peter Tonks are named as the principal signatories to a statement supporting an application to the European Court.
Mr Le Lievre said he did not know exactly how the system should be changed, but it needed to better reflect the island as a whole.
He said: "If you get 51% of the vote at the moment you get 100% of the seats, this is not fair to the other 49%.
"We are not the experts; we feel the MoJ (Ministry of Justice) should look again and come up with something that will represent everybody and not just the majority, which is the established majority."
Related Internet Links
The BBC is not responsible for the content of external sites.