Easenmyne and Phoenix Foods say 50 jobs at risk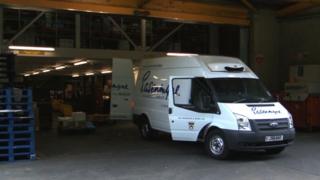 Almost half the jobs at Channel Islands food wholesaler A E Surcouf and Sons are at risk, the company has announced.
Fifty of the 110 roles are under threat after the Channel Islands Co-operative Society (CICS) moved its food warehouses to the UK.
A E Surcouf trades as Easenmyne in Jersey and Phoenix Foods in Guernsey. The firms source goods from the UK and the continent and distribute to Co-ops.
Chairman Peter Surcouf said the move would secure the future of the company.
"The local Co-operative was an important customer and the company deeply regrets the necessity for the proposed redundancies," he said.
The jobs will go from across the whole business ranging, from management to store men, and will be split between the two islands, although the majority will be in Jersey.
"Our thoughts are with those staff that may eventually be made redundant after the appropriate consultation period," he said.
The company is unsure exactly how many jobs would be lost in each island but the reduction of roles will begin in April.