Guernsey doctors' licence renewals deferred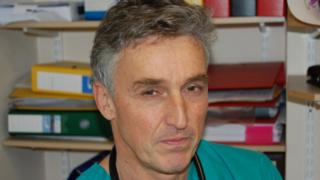 Doctors in Guernsey have had their licence to practise renewals deferred for six months.
It follows a critical review into midwifery services on the island after a newborn baby died in hospital.
Regulators the General Medical Council (GMC) said the Nursing and Midwifery Council review "raises matters of serious concern".
Doctors have to prove their fitness to practise regularly in order to have their licence to practise renewed.
GMC chief executive Niall Dickson said: "We are particularly concerned about the local arrangements for ensuring that every doctor on the island is competent, up to date and fit to practise.
"We are working closely with Guernsey's Health and Social Services Department to resolve these concerns and we are writing to the doctors who are affected by this decision.
"It will not affect their ability to practise in the meantime."
Dr Brian Parkin said doctors in Guernsey were "very surprised" at being affected by "something that seemed to solely concern the midwifery department".
"Doctors are saying they have got nothing to do with the situation that's being investigated," he said. "They find it a little bit strange."
He added that his colleagues did not want confrontation with the GMC and would work with it "to do everything we can to improve governance procedures".