Guernsey Les Touillets TV mast move opposed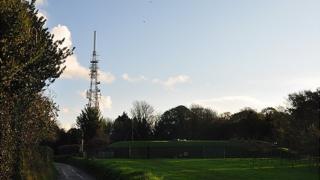 Plans to build a replacement TV mast 80m (262ft) away from a current mast have been opposed by nearby residents in Guernsey.
Arqiva, which runs the transmitter, put in the plans as its lease is finishing in 2016 and is not being renewed.
Some residents questioned the "logic of the move" and the "visual impact" in the proposed location.
Politicians were due to rule on the plans, but deferred their decision until a site visit could be conducted.
The mast, just off the Route de L'Eglise, in the Castel, provides Freeview TV, radio for the two local stations - BBC Radio Guernsey and Island FM - and mobile phone services.
It provides a TV signal for about 24,000 people.
The proposed site for the new mast is in the land set aside for the nearby Frie Plaidy Reservoir.
Chris Bentley, one of six residents who oppose the move, said: "There's been a tower there of some description for well over 70 years and it kind of seems crazy that it's being taken down and rebuilt at tremendous cost because one individual doesn't want it on their land any more.
"[It's] literally within spitting distance of where it is now."
He said those who objected sought a clear idea of why the decision was being made.
Robert Cooney, who owns the land where the transmitter currently sits, said there were better places for the mast to be placed within the reservoir site.
He said the suggested location would damage a number of trees.