Herm, Jethou and the Humps could become Ramsar site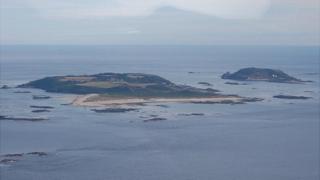 The Channel Island of Herm could be formally recognised as a site of international environmental importance.
Herm, Jethou and the Humps have been put forward by Guernsey's Environment Department to be designated as a site under the Ramsar convention.
Ramsar sites are wetlands considered to be of international importance.
Deputy Minister for Environment Barry Brehaut said: "It promotes awareness and will hopefully lead to this area getting an element of protection."
He said the move was part of the work on Guernsey's biodiversity strategy, which is due to be presented to the States soon.
Jessi Jennings from La Societe Guernesiaise said: "It'll be great for the marine environment as we have a resident seal colony on the Humps and that will be included in the Ramsar site.
"Although the Ramsar site does not provide any legal protection - it will improve people's awareness regarding the area."
The department has put forward the area as it supports "a rich diversity of flora and fauna" including important breeding areas for sea bird species - such as lesser black backed gull, puffin and shag - and Herm Common has numerous archaeological remains.
Guernsey currently has one Ramsar site at Lihou island and the surrounding area, including L'Eree Headland.
There are two other in the Bailiwick - the Gouliot Caves in Sark and another on Alderney's west coast and the Burhou Islands.