Guernsey islanders pay respects on Remembrance Sunday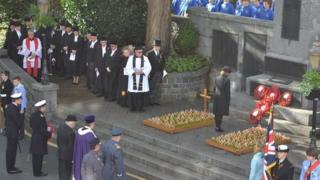 Islanders have paid their respects to servicemen and women from Guernsey on Remembrance Sunday.
Hundreds of people gathered at services across the Bailiwick.
In Guernsey groups of veterans were among those who attended the Act of Remembrance at the Smith Street War Memorial.
Services were also held in Sark and Alderney to remember those who have fallen fighting for their country.
Island dignitaries and representatives from HMS Daring were present at Smith Street.
'Ultimate sacrifice'
The Lieutenant Governor, Air Marshal Peter Walker, said: "I think it's important we remember the sacrifices of our forebears and our peers in this day and age.
"Friends of mine have been lost along the way and I take it very personally - and that's a day when I remember lost friends and colleagues as well as representing the crown."
Commander Phillip Dennis, from HMS Daring, said "This is an opportunity to take time out of our busy lives to think and appreciate the hundreds of thousands of men and women from the UK and broader commonwealth who have made the ultimate sacrifice to ensure our freedom and way of life."