Guernsey Post to issue commemorative WW1 stamps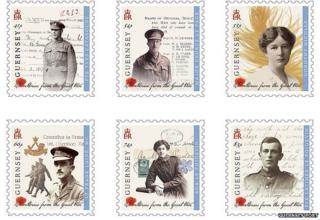 A series of Guernsey stamps will be issued to commemorate the centenary of World War One.
Guernsey Post will issue the series entitled 'Stories from the Great War'.
The first set of six stamps and a booklet depict men and women from Guernsey who showed great courage during the war.
The series will be launched on Tuesday with a set of stamps issued every year until 2018.
'Significant contribution'
Dawn Gallienne, head of philatelic at Guernsey Post, said: "The impact of the Great War changed the course of history and its effect is felt to this day.
"Following extensive research and an appeal in Guernsey for people to share information with us, over the next five years we will tell their stories and show the impact the Great War had on the Bailiwick, as well as the significant contribution our little community made to the war effort."
The individuals featured in the first set of stamps include the story of Private Yves Cataroche who was hospitalised at the Battle of Ypres.
Among the women featured is Dorothy Nicolls, who volunteered to join a national shell filling factory in Chilwell, Nottinghamshire.
The factory suffered two major explosions and Miss Nicolls was awarded the Medal of the Order Of The British Empire, later called the British Empire Medal, for her "courage and devotion to duty".