Guernsey midwifery review 'echoes concerns' of nurses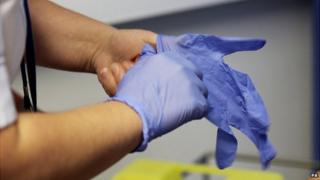 A critical review into midwifery services in Guernsey "echoes concerns" raised by other nurses on the island, according to a union rep.
The Royal College of Nursing (RCN) is in Guernsey speaking to its members following the release of a report that raised serious concerns.
Lindsay Meeks, RCN Operational Manager said: "The report is shocking and upsetting.
"[It] concludes there is a lack of both management and clinical leadership."
She said: "Nursing has previously been considered an 'add on' to existing roles and as such has not been given the significance it deserves. This is unacceptable.
"Countless papers and reports stating this is needed have been overlooked by HSSD [Health and Social Services Department] leading to years of stalling."
---
Changes implemented following the review:
Four midwives on every shift compared to three
Three new senior positions will be created; a medical director, clinical director of maternity services and a clinical director of governance
An additional midwifery clinical lead and a supervisor of midwifery are being recruited
The working patterns of obstetricians have been changed on a trial basis and will be subject to ongoing review
Changes to the procedure for approving medicines to be administered during labour
---
Ms Meeks said: "Members tell us they are expected to undertake significant clinical responsibility, especially out of hours, and staffing levels and skill mix continue as a concern.
"It is vital that we get to the bottom of this to ensure patients receive high quality, safe care on the island.
"Our members tell us that they welcome further reviews as some of the report echoes concerns that have been raised for some time that have fallen on deaf ears."
The union said it would continue to call for a senior nurse role to be created to "give clarity for the nursing and midwifery services and the required leadership to drive some significant strategic change".
'Listen and engage'
Dr Carol Tozer, chief officer of HSSD, said: "We are working closely with all relevant partner organisations to ensure that the action plan that we are proposing comprehensively addresses all aspects of the recommendations of the NMC's reports.
"This action plan will also address aspects of the findings that go beyond maternity services."
She said she had a meeting arranged with a RCN representative to "listen to and engage with" the union's members, who have a "vital role in meeting the challenges we face".
Dr Tozer said: "[This] includes their contribution as experts in the design, development and delivery of best nursing practice."