Guernsey's WW1 dead remembered by poppy project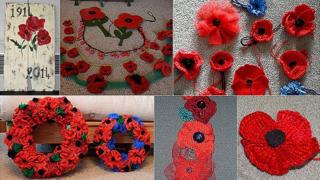 The 1,470 people from the Bailiwick of Guernsey who died serving in World War One are being remembered in a four-year long project.
Islanders have been asked to make poppies and blue cornflowers, the British and French symbols of remembrance, for each of those killed.
Historian Liz Walton said about 500 had already been made and she hoped to continue the project until 2018.
She said it was a chance for anyone to get involved in an act of remembrance.
Mrs Walton said she had been inspired by the Tower of London poppies and community projects happening elsewhere.
'All different'
She said the flowers have been made of "just about anything you can imagine", from "large wooden ones" to "knitted, crocheted, felt, net, just about every craft is respected".
"The idea is they should all be different as they are all representing different people."
The project aims to create 1,410 poppies and 60 cornflowers to be displayed outside at various remembrance events during the 100th anniversary of World War One.
Mrs Walton said some had already been displayed, but she hoped once completed all of the flowers will go on display in the Sunken Gardens in St Peter Port, near the Bailiwick War Memorial.
She said she expected production to continue until 2018, as some of the flowers would need replacing over time.