Guernsey States-run ambulance plan rejected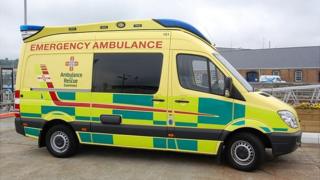 Proposals for the States to run Guernsey's ambulance service were rejected ahead of an emergency deal being agreed with St John.
In September, an emergency panel intervened to agree a £2.6m deal ensuring the service continues in 2015.
Treasury Minister Gavin St Pier said the plans from the health department were presented with "insufficient time and information" for a decision.
He said the treasury was not opposed to the service being run by the States.
In a statement, Deputy St Pier said a number of financial and commercial risks had been found in the proposals and it was "impossible" for the matter to be considered properly.
His department also said it lacked confidence the Health and Social Services Department had the capacity, capability and experience in-house to run such a service.
---
Contract changes agreed
The annual contract paid by the States to St John will increase by £360,000 to £2.6m in 2015
The emergency road ambulance and patient transfer service continues to be supplied by St John
Revised contract runs for up to four years, but could be stopped after two years with six months notice
Financial oversight by the States included in new contract
Supervisory committee, including health department and St John representatives, appointed to oversee service and look at options for the future
---
The proposals only reached the treasury board on the day of a deadline given by St John - 30 September - according to the island's Chief Minister Jonathan Le Tocq.
He said: "Given a number of commercial and financial risks that it had identified and without sufficient time or information in its view it was not possible to conclude safely that the proposal represented best value for the States of Guernsey."