Rescue after boat sinks off Guernsey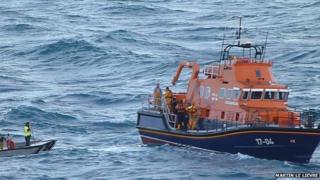 Two men have been rescued from the sea after their boat sank off the south east coast of Guernsey.
The Guernsey lifeboat was alerted at 15:10 GMT and Channel Islands Air Search was on its way to the scene when the men were found.
The first was rescued by the lifeboat after he was found clinging to a beacon and the second washed ashore at L'Auberge just before 16:00.
Both men have been taken to hospital for treatment.
Peter Gill, St Peter Port lifeboat operations manager, said the men were "extremely lucky".
He said after the alarm was raised by someone on the shore the lifeboat was joined by a number of other vessels to search the area for the two men.