Rare great bustard is spotted in Alderney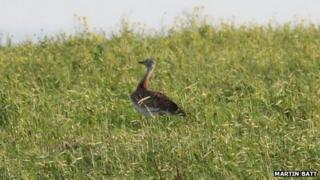 A rare great bustard has been spotted on a Channel Island for the first time.
The bustard, one of the world's heaviest flying birds, was seen in Alderney and may have come from Wiltshire, local wildlife experts said.
The Living Islands group, which includes Alderney's wildlife trust, said it was an adult female in good condition and it may have flown off course while migrating to Spain.
The species was hunted to extinction in Britain in the 1800s.
When first spotted on Alderney's south coast, the bird was thought to have been a big goose before being confirmed as a bustard, Living Islands said.
Martin Batt, from Living Islands, said: "It's very positive and it just shows the type of the bird that can can turn up here. It's very exciting for nature tourism."
The last UK great bustard was shot in 1832.
Since 2004, the Great Bustard Group has been re-introducing Russian great bustards on to Salisbury Plain, Wiltshire.
A little bustard, which has not been seen on mainland Britain for 18 years, has been sighted in Dorset.
It was photographed on farmland near Bridport.