No public holiday for Guernsey's Liberation Day 2015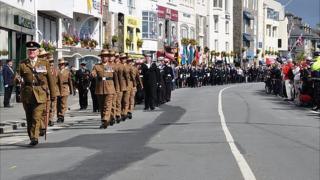 There are no plans for an extra public holiday in 2015 despite Guernsey's Liberation Day falling on a Saturday.
Next year will be the 70th anniversary of the Channel Islands being freed from occupation by German forces during World War Two.
In Guernsey, the anniversary of the liberation is celebrated on 9 May, the day in 1945 the garrison surrendered.
The Commerce and Employment Department said the Saturday would still be designated a public holiday.
---
Liberation Timeline
8 May - VE Day, War in Europe officially ended
9 May - Guernsey and Jersey garrisons surrender
10 May - Sark liberated
12 May - Herm liberated
16 May - Alderney liberated
---
He said: "For the past 69 years - with the sole exception of 2010, the 65th anniversary, when 9 May was a Sunday - 9 May has been a public holiday... regardless of the day of the week on which it has fallen."
For the 2010 celebrations the States agreed islanders should be given the following Monday off work and made it a public holiday in law.