Guernsey Leale's Yard development to focus on housing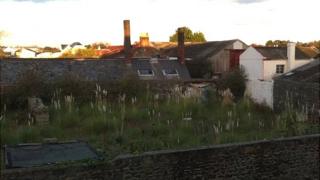 Reworked plans for the development of Leale's Yard will include more residential properties than the original.
Colin Macleod, chief executive of the Channel Islands Co-operative Society, said retail and commercial buildings would still be included.
He said the previous proposals had been "too heavily retail focussed and were undeliverable as a result".
Mr Macleod also said he "deeply regrets the lack of progress" at the site.
An outline planning brief for the area in the north of the island was agreed 10 years ago and last week the States approved a three-year extension.
---
Aim of the development
Provide new homes or retain and improve the existing housing stock
The creation of homes above other lower-floor uses in order to establish a diverse mix of uses
Provide new retail facilities to revitalise the Bridge shopping area
Encourage the provision of service trades such as professional offices, doctors' surgeries and hair salons
---
Mr Macleod said with hindsight some things would have been done differently.
He said: "I don't think we should have asked the tenants to leave in 2008, that's actually cost the society an awful lot of money.
"We thought it was the right decision at the time but we've no longer got that rent roll and the site is sat there sort of derelict and we've had to protect it against fly tipping and that sort of thing."
It is not clear when the new plans will be submitted or made public, but Mr Macleod said they were "being worked on".