Channel Islands storm impact on birds 'not as bad as feared'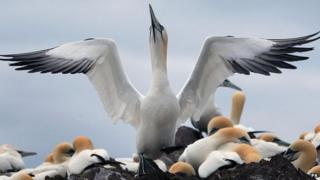 The impact of extreme weather on Channel Islands seabird colonies during the early part of 2014 was not as bad as first feared, it has been claimed.
The Alderney Wildlife Trust report covers the impact of the storms that killed thousands of birds.
It found that while some colonies did go into decline, all colonies were still currently breeding.
But the trust said there were still concerns at the long-term viability of the seabirds.
The annual Ramsar Project, which examines the population of island seabirds, said: "Back-to-back storms in the English Channel throughout February meant that migratory seabirds were not able to feed efficiently and many died as a result."
Normally a dozen seabirds are washed up in Alderney, but in seven weeks through February and March 2014 there were 138 dead seabirds washed up.
The report said continued: "Over 47,000 seabirds washed up dead around Western Europe, over half of them were puffins."
The Trust said its report emphasised the importance of continued seabird monitoring.