Guernsey election 2016: Electoral roll to be created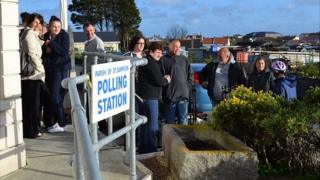 An electoral roll will be created from scratch ahead of Guernsey's election in 2016.
The current roll was created ahead of the 2012 election and has 29,745 names on it out of an estimated 45,000 eligible to vote.
Home Minister Peter Gillson said a high-profile campaign would be run ahead of the opening of the roll in September next year.
He said the aim was to "exceed the number" on the current roll.
It follows the current roll falling 5,500 below its target of 35,000 names.
Deputy Gillson said people should get on the roll, even if they are currently thinking they will not vote, as they may change their mind ahead of the election.
He said a rolling electoral roll was likely to be used in the future as "e-government becomes more common place" and the rolling census comes online.
The election is due to see 45 deputies elected for a four-year term.
The available seats will be divided up between seven districts with candidates able to stand in any of the districts, regardless of where they live in the island.