All 'legal highs' now illegal in Guernsey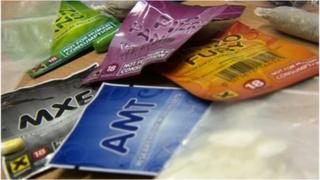 Guernsey's drugs laws have been toughened up to completely ban the import of so-called "legal highs".
From Monday, the law will change to make it illegal to import any substance designed for recreational drug use.
Several drugs have also been classified or reclassified, including ketamine, tramadol and NBOMe, a relatively new LSD-like hallucinogen.
Legitimate medicine is not affected but officials say people should keep prescriptions with medication.
Peter Knee, of the Guernsey Border Agency, said the changes would not stop people bringing legitimate medicine to the island.
"Previously, the law focused on the importation of commercial quantities or importation for commercial purposes," he said.
"It is now effectively illegal to import any substance designed for the purposes of recreational drug use, regardless of quantity and regardless whether it is for commercial purposes or personal use.
"The amendments will make it illegal to import any substance that is designed to get you high."
---
Toughening up Guernsey drugs laws
NBOMe has been classified as a Class A controlled drug
Ketamine has been reclassified as Class B, from Class C
Lisdexamphetamine and groups of benzofuran compounds have been classified as Class B controlled drugs
Tramadol has been classified as a Class C drug
Zaleplon and zopiclone have also been classified as Class C
---
Andrea Nightingale, of the Misuse of Drugs Advisory Group, said the changes mirrored amendments made in the UK.
NBOMe, now a class A drug, contains highly potent hallucinogenic chemicals," she said.
"Using these compounds causes increased heart rate, high blood pressure, agitation, aggression, hallucinations, as well as seizures.
"Some users have reported highly negative effects including confusion, nausea, insomnia, and paranoia."