Guernsey building firm warns of 'job cuts'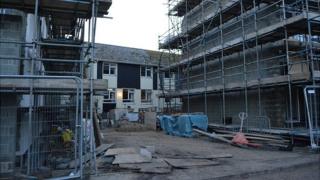 A lack of major construction projects next year may lead to job losses, according to the chairman of a leading Guernsey building firm.
Jeremy Rihoy, from JW Rihoy, said no major public and private sector projects were lined up for 2015.
He raised concerns it may also cut the number of apprenticeships available.
Tim Guilbert, chairman of Guernsey Chartered Institute of Building, said: "I'm not a subscriber to the view that staff will necessarily be laid off."
He said the industry was facing a downturn, but needed to plan for the future, which was "about having quality education that delivers people with the right skills".
"I don't believe the opportunities in construction are dramatically less at this moment, it's just like any business - it will ebb and flow," said Mr Guilbert.
He said uncertainty over the open market and a slow down in States projects, including the Guernsey Housing Association, was hitting the industry, but he hoped the new States land use plan, due out in February, would encourage more development.
Mark Palfrey, president of the Guernsey Building Trades Employers Association, said: "It's natural industry has to meet peak in demands and low demands.
"There's a bandwidth around which that is perfectly manageable, the worry is if you get too busy or like this time when it's going to get too quiet - how do you cope?"
He said the expected delay to La Mare de Carteret schools redevelopment caused by a States review was "a significant disappointment".
Mr Palfrey said: "Whichever contractor would have been successful with that project it would have released a significant amount of work into the local industry through sub-contractors and suppliers."