Guernsey States delay car tax decision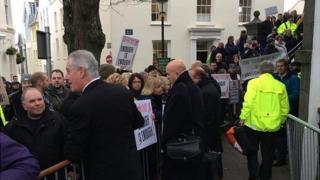 A decision on introducing width and emission charges when vehicles are bought in Guernsey has been put off until January.
States members voted 26-18 for the delay after the Environment Department asked for time to change the proposals.
Minister Yvonne Burford said the time would be used to redraft the proposals to answer "legitimate concerns raised".
She said the aim of the policy remained to "address the issue of big high emission vehicles on our roads".
The proposed fees have been opposed by the Guernsey Motor Trades Association and were one of the issues behind the Enough is Enough protest attended by up to 2,000 people.
Deputy Burford said the time would allow the department to amend the proposals and give the "public and [States] members time to consider the changes" before they were debated at the January States meeting.
She said changes being made followed "proper reflection and scrutiny" and included changes to the banding for width duty to ensure larger family cars were among 70 vehicles to be free of all duties.
Earlier it emerged the president of the Guernsey Motor Trades Association, Dave Beausire, had placed a formal complaint against Deputy Environment Minister Barry Brehaut after an alleged confrontation at the weekend.
Mr Beausire later withdrew the complaint after receiving a written apology from Deputy Brehaut.