Mechanical failure caused Guernsey plane crash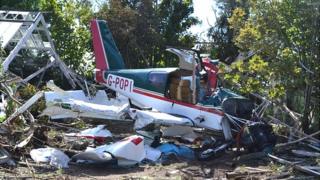 A mechanical fault caused a pilot flying from Guernsey Airport to crash into a greenhouse.
Pilot John Shaw said he was "extremely lucky to be alive" after the crash in June.
The plane filled with smoke after an exhaust pipe fractured, a report by the Air Accident Investigation Bureau (AAIB) found.
The passenger, Mr Shaw's wife Lynda, sustained serious injuries to her back and had to be airlifted to hospital.
The couple had just left the airport at 16:00 BST on 17 June 2014 on their way back to Seething Airfield, near Norwich, when problems developed.
Thick smoke
The AAIB report said the plane, a Socata TB10 Tobago, had climbed to about 1,500ft (457m) when there was "a sudden ingress of large quantities of smoke into the cabin".
Mr Shaw declared an emergency to Guernsey Airport and turned back towards the runway.
The report said the smoke was "thick and choking" and Mr Shaw could only find the ignition keys "by feel" to turn the engine off.
The aircraft landed nose-down in a commercial greenhouse and the couple got out as quickly as possible as they could smell aviation fuel.
The AAIB report said a fracture in a "cylinder exhaust downpipe" enabled hot exhaust gases to enter the plane.
It said: "The condition of the fracture suggests that it had started as a crack which developed over a considerable period of time but its location, effectively inside the clamp, would render it very difficult to see without dismantling the joint."
At the time of the incident Mr Shaw told the BBC: "We're extremely fortunate to be alive... particularly given the likelihood of a fire in that kind of impact is very high."
The couple were in the island as part of an air rally organised by Guernsey Aero Club.