Flood defence for National Trust of Guernsey properties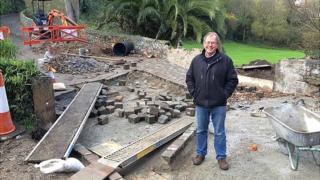 A ford is being built to try to protect some of the National Trust of Guernsey's properties.
The trust's properties, including houses, a barn and a waterwheel in the Quanteraine Valley, St Pierre du Bois, have been hit by "severe flooding".
Martin Ozanne, president of the trust, said the granite ford would channel water away from nearby buildings.
Cars will be able to pass over the ford and work should be completed within a few weeks, Mr Ozanne said.
Lisa Marquis, a nearby resident, said: "The drains cannot cope with the flow... so the water wants to go down the middle of the valley, but cannot cross the road as the level has been raised up over the years.
"As it can't carry on the flow down the valley, it widens and floods my house and the barn."
She said normally the valley flooded "once or twice a winter, but obviously last winter was particularly bad".