Guernsey school review may 'force cost-cutting', warns union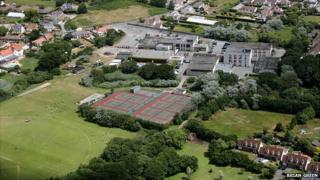 Reviewing the redevelopment of two Guernsey schools could lead to unnecessary cost-cutting, a teaching union has warned.
Last month States members agreed to review the scope and cost of the £59m development, which some politicians said may delay the project.
The review came amid pressure to prove that the project offered good value.
Paul Watkins, the south east regional rep for the NASUWT, said the necessary "due diligence" had already been done.
He said: "There's no reason to doubt the processes carried out by the Education Department... we need to appreciate what they've done and recognise this."
He said the project was a community hub with a proposed lifespan of 60 years and "these things didn't come cheap".
'Major concern'
The plans include replacing the current secondary and primary schools and building an autism centre and improved indoor and outdoor sports facilities.
The project is scheduled to be completed before September 2017.
Deputy Chief Minister Allister Langlois, who along with Chief Minister Jonathan Le Tocq called for the review, said: "There was clearly major concern about the value for money aspect of the project.
"Therefore we felt it was only right and proper for all the taxpayers in the island to be reassured if we do ahead with the original plans they are the right ones."
In a letter of support the union's general secretary Chris Keates said: "The schools on the La Mare de Carteret campus are well past their intended lifespans.
"Teachers and pupils in those schools are being placed at a disadvantage with colleagues in other schools which have been rebuilt."
An Education Department statement said: "We welcome the support from education professionals who understand the needs of delivering a modern and engaging curriculum at secondary level.
"We are working very closely with the Treasury and Resources Department and Review Panel and will forcefully be arguing our case for our original proposals, which we believe demonstrate value for money and will provide equality of opportunity for all our young people, as well as being an investment in the island's future."