Air crash toxic soil to be removed from Guernsey field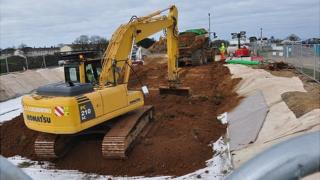 Work to remove toxic soil from fields in Guernsey to protect the water supply will cost £280,000, the States says.
The Public Services Department said the soil would be moved to an area at the airport to protect the island's water supply from the risk of contamination.
Perfluorooctane sulfonic acid (PFOS) was previously used by the airport fire service and has been found in the soil.
The soil in the Forest Road was contaminated following a fatal plane crash in 1999.
PFOS was previously used in some firefighting foams. Its use in the European Union was banned in 2008, the UK Government said.
Guernsey company S&D Groundings will be carrying out the work at the airport following a tendering process.
The project should be completed in April and will involve clean soil being removed from a bund at the airport to accommodate the contaminated soil, airport staff said.
Airport director Colin Le Ray said residents of Forest Road had been notified.