Guernsey midwifery review: More baby deaths are investigated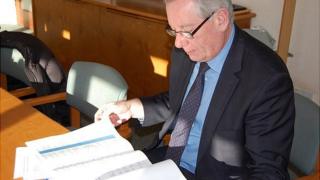 A number of baby deaths have been investigated following the publishing of a critical report into Guernsey's maternity services.
The news was revealed as an 88-point improvement plan was released by the Health and Social Services Department.
The Nursing and Midwifery Council's extraordinary review was launched after the death of a baby early in 2014.
Dr Carol Tozer, chief officer, said: "There have been further stillbirths, which have been investigated."
She said stillbirths were "nothing short of a tragedy" and the department and Nursing and Midwifery Council had re-examined previous investigations and had "not revealed anything new".
The Nursing and Midwifery Council's review found tired facilities and a lack of supervision, and raised concerns about staffing, organisation and the safety of patient records.
---
Stillbirths
The birth after the 24th week of gestation of a baby that has died in the womb
From 2002-2012 the average number of stillbirth registrations per year in Guernsey and Alderney was 2.8
Stillbirth rate is defined as the number of stillbirths per 1,000 live and stillbirths
For Guernsey and Alderney from 2010-2012 the rate was 3.6 per 1,000
The UK rate for the same period was 5 per 1,000
Source: Health Profile for Guernsey and Alderney 2010-2012
---
Health and Social Service Minister Paul Luxon said: "The review was very clear, it was highly critical in regards to our midwifery service and what we've done is taken stock of that, considered it and are now in the process of making sure we're refining the process."
He said the action plan was "very extensive" with progress already having been made: "Forty of those have been completed, there are 30 underway and on time and 18 slightly behind."
Dr Tozer said: "The breadth and depth of the issues take time if we are to implement them in a way in which is sustainable."
She said two "really important appointments" had been made with Steve Hams, interim clinical director of governance, and Professor William Roach, interim medical director for the department, and permanent appointments to the posts would be made within six months.
Deputy Luxon said: "The most important thing... is that we work openly and full accountably to make sure that we absolutely make the improvements that are necessary, we then have to obviously work out the funding and arrangements going forward."
NHS England South west, which is the Local Supervising Authority (LSA) for Guernsey, has also created a plan for its role in the changes in maternity care in the island.
A Nursing and Midwifery Council spokeswoman said: "The extraordinary review into supervision of midwives which took place in October 2014 identified several concerns around maternity care in Guernsey.
"We have commissioned an interim return visit, which will take place on 24/25 February. It will assess the early progress which has been made against the action plans."