Guernsey Mont Cuet landfill to close 'in 18 months'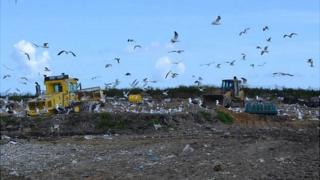 Guernsey's only landfill is expected to close in 18 months, according to the island's recycling officer.
Tina Norman-Ross said the new waste strategy, which involves bailing and exporting the island's rubbish, was "well under way".
She said: "In about 18 months we'll be looking at moving our waste from coming here to down to Longue Hougue for processing and export."
The Mont Cuet landfill is due to be flattened and used for composting.
No export destination has yet been announced for the waste.
The department set recycling targets of 50% by the end of 2013, which was not achieved; 60% by the end of 2018 and 70% by the end of 2025.
Figures for the year ending September 2014 show the household recycling rate stood at 47.1%.