Guernsey States reject width and emissions tax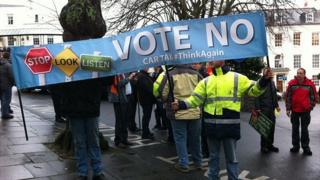 Uncertainty remains over how the States of Guernsey's transport strategy will be funded after two proposed tax models were rejected.
Changes to a width and emissions tax were defeated by 23 votes to 21 and the original plan was withdrawn, as was a move to reintroduce motor tax.
Ahead of the States meeting, 150 people turned out to protest against the width and emissions tax.
The money raised from taxation is needed for the transport strategy.
The strategy includes plans for a free bus service, paid parking, improvements to walking and cycling facilities and a review of island speed limits.
The Environment Department, which is responsible for transport matters, is expected to bring forward new proposals for a width and emissions tax as it was agreed as part of the overall strategy.
Voting for the amended width and emissions tax proposals
Pour (for) - 21
Contre (against) - 23
Deputy Peter Harwood
Deputy Jan Kuttelwascher
Deputy Barry Brehaut
Deputy Roger Domaille
Deputy Rob Jones
Deputy Allister Langlois
Deputy Michelle Le Clerc
Deputy Lester Queripel
Deputy John Gollop
Deputy Kevin Stewart
Deputy Peter Sherbourne
Deputy Peter Gillson
Deputy Richard Conder
Deputy Paul Le Pelley
Deputy Elis Bebb
Deputy Lyndon Trott
Deputy Gavin St Pier
Deputy Dave Jones
Deputy Scott Ogier
Deputy Laurie Queripel
Deputy Matt Fallaize
Deputy Mary Lowe
Deputy Andrew Le Lievre
Deputy Garry Collins
Deputy Darren Duquemin
Deputy Barry Paint
Deputy Chris Green
Deputy Roger Perrot
Deputy Mark Dorey
Deputy Al Brouard
Deputy Jonathan Le Tocq
Deputy Arrun Wilkie
Deputy Hunter Adam
Deputy David De Lisle
Deputy Yvonne Burford
Deputy David Inglis
Deputy Paul Luxon
Deputy Heidi Soulsby
Deputy Mike Hadley
Deputy Robert Sillars
Alderney Rep Graham McKinley
Deputy Mike O'Hara
Deputy Francis Quin
Alderney Rep Louis Jean
Deputies Martin Storey, Tony Spruce and Sandra James were absent from the assembly.