GcMAF cancer drug importation banned by Guernsey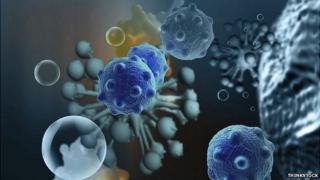 The importation of unlicensed cancer treatment GcMAF has been banned by Guernsey's authorities.
It comes after a public health warning from the Medicine and Healthcare Products Regulatory Agency (MHRA).
Ed Freestone, Guernsey's chief pharmacist, said the island's health department raised concerns about the drug with the agency in December.
He said: "Our key objective has always been and remains protection of patients."
Blood plasma that should "not to be administered to humans" was used to create the GcMAF drug at a factory in Cambridgeshire, the MHRA found during an unannounced inspection.
The BBC understands there are about 10 other factories producing the drug around the world.
Mr Freestone said: "We were concerned about how the product was being promoted in the island.
"We had started to get intelligence which suggested that the product was being made in the United Kingdom... we shared our information with the MHRA."
He said people known to be taking the substance were being informed by letter of the importation ban.
"There is no current information suggesting the product has caused direct harm to anyone's health, however, anyone concerned about the product, or its ban, is encouraged to talk to their medical advisor for advice and reassurance," he said.