Guernsey church payment opt out proposed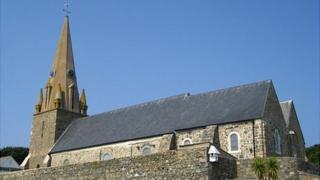 Guernsey residents could be given the choice of opting out of paying for the upkeep of the island's parish churches.
The proposal comes from two senior politicians, Deputy Gavin St Pier and Deputy Jonathan Le Tocq.
Currently each rate payer pays about £7 per year for the upkeep of the island's 10 buildings.
The deputies have placed an amendment to the draft Parochial Church Property Law which States members will vote on at the end of February.
If approved, it could allow parishioners to opt out.
'Freedom to choose'
Deputy Le Tocq said: "This gives people the option as to whether they want to be involved."
He claimed "some people" did not want to support the rate and they should have "the freedom to choose".
But one of the vice deans of Guernsey, Mike Keirle, said: "The rates pay for the maintenance of the historical buildings.
"Allowing them to withdraw is like saying 'I don't have any children so why should I pay anything towards education'.
"Our church is used extensively by the community," he added.