Petition against St Peter Port parking fees submitted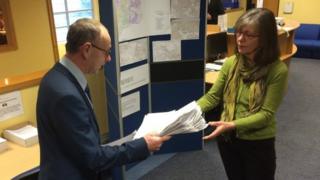 A petition calling for "unfair" parking charge proposals to be scrapped has been presented to Guernsey's environment minister.
The plans mean workers will have to pay more than £1,000 a year to use long-stay car parks in St Peter Port.
More than 6,000 islanders have signed the petition against the scheme.
Public parking fees, which are expected to be introduced in the autumn, were part of a traffic strategy agreed by the States in May.
'Very unfair'
Deputy Lester Queripel, who handed the petition to Environment Minister Yvonne Burford, said the proposals would be detrimental.
"It's very unfair to ask those who work in town to pay to park," he said.
But Ms Burford said taxpayers would have to foot the bill if parking remained free.
The States is expected to debate the petition later in the week.