Guernsey Albert Pier parking suspended for cruise liner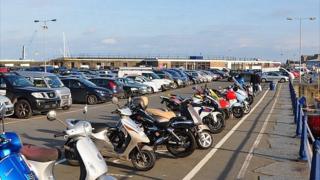 Parking on Guernsey's Albert Pier will be suspended on Sunday for the arrival of the first cruise ship of the season.
It comes as changes to where cruise passengers come ashore in St Peter Port are considered by planners.
A Guernsey Harbours spokesman said the closure of the pier for the day was "expected to be a temporary arrangement".
The plans include removing parking spaces, improving pedestrian safety and install pontoons at the Albert Pier.
They also involve creating a new coach pick up/drop off point at the bus terminus, near to the pier.
More than 500 of the Saga Sapphire's 700 passengers are expected to disembark from about 08:30 GMT on Sunday after the cruise ship was added to this season's itinerary, which was originally due to start on 31 March with the Macro Polo.
This year more than 140,000 cruise passengers are expected to come ashore, up from 105,000 last year.
The Guernsey Harbours spokesman said cruise tenders were being moved to the Albert Pier in a bid to cope with the continuing growth in the number of ships visiting the island.
He said the increase has meant it no longer has enough capacity and there are "significant safety issues" in bringing visitors ashore at the inter-island quay and into the commercial area of the harbour.