Guernsey La Mare school build 'delayed beyond 2017'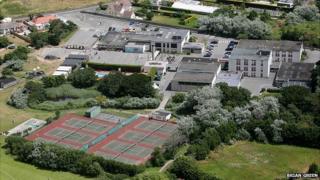 The delayed £59m redevelopment of La Mare de Carteret schools will not be completed before September 2017, Guernsey's education minister has said.
The project has been delayed by a review ordered over concerns about the size and scale of the project.
The plans include new secondary and primary schools, an autism centre and improved sports facilities.
Deputy Robert Sillars said the delay meant they were now working towards a 2018 opening.
The review was due to be discussed by the States at the end of March but has been pushed back to the end of April, following the publication of the report on 23 March.
Mr Sillars said: "Unfortunately there is no way now that the schools will be able to open in September 2017.
"We must work hard now to achieve a September 2018 opening and if we receive the necessary support in April this will be possible."
The secondary school is the last of the States high schools to be redeveloped following the rebuild of Les Beaucamps and St Sampson's.
Treasury and Resources is carrying out the review.
Minister Gavin St Pier said: "We remain committed to ensuring that the final proposals for the redevelopment of the schools are of the right design, scale and scope to fit the current and future needs for education and of the wider community.
"The review has made a substantial number of recommendations, not just on the school redevelopment, but on issues that extend beyond the project.
"It is important that we take time with the Education Department to properly consider these to ensure that the States can arrive at the right solution for the island."