Kevin Delaney leaves Barclay Brothers' Sark firm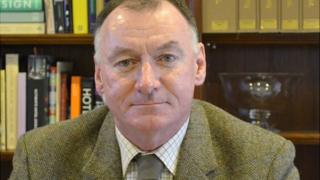 The man who oversaw the closure of four of Sark's hotels has left his job as head of the Barclay brothers' owned Sark Estate Management.
A spokeswoman said Kevin Delaney stepped down from his role on Tuesday.
In a statement, Sir David Barclay said: "Kevin Delaney has made a valuable contribution to our investment in Sark and to the development of the island. He will be sadly missed."
The BBC has approached Mr Delaney for comment.
The Barclays live on the neighbouring island of Brecqhou, which they bought in 1993.
It is understood Mr Delaney will remain as editor of the Sark Newspaper, which has been accused of harassing islanders.
Deputy Editor John Donnelly said the tone of the weekly newsletter was not expected to change and Mr Delaney would now have "more time to concentrate on holding people to account".