Guernsey Airport to use Twitter for flight announcements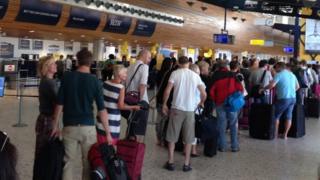 Guernsey Airport is to use Twitter to show flight times instead of its current display screen technology.
The island's only airport is upgrading its flight information display system (FIDS) on Tuesday and this will mean they are unavailable.
A spokesman for the airport said it would also use airport PA announcements to tell people when flights are boarding.
The upgraded system is expected to be up and running later on Tuesday.
As well as posting to the Guernsey Airport Twitter account, there will be a dedicated phone line people can call to request updates on specific flights.