Guernsey health in plan to restrict smoking around food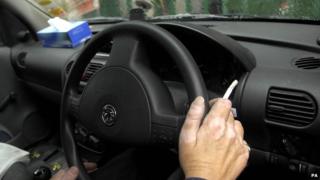 Further restrictions on where people can smoke in Guernsey could be imposed under the latest tobacco strategy plans by the health department.
Proposals by the Guernsey health department include plans to ban smoking in cars carrying children.
The policy would also ban smoking in playgrounds and outdoor eating areas.
James Filleul from the Channel Islands Tobacco Retail Association said banning smoking in outdoor areas was not practical.
He said: "The potential ban on smoking in outdoor eating areas is going to be highly problematic for the hospitality and tourism industries.
"If you are having a cigarette at three o'clock outside a pub in February and there was nobody eating there, would it be right to stop that?"
There are also moves to introduce plain packaging for cigarettes and reduce the quantity of tobacco products that can be bought in Duty Free.
Guernsey Director of Public Health, Dr Stephen Bridgman, said price was a very effective tool in reducing smoking.
He said: "Price has a significant impact in discouraging children to smoke and encouraging adults to stop.
"I think it is the package really, I don't think there is one specific thing, I think it is a lot of small things that hopefully will help our community further reduce the proportion of people who smoke."
The Health and Social Services Department said the proposals were part of plans to dramatically reduce the number of people smoking in the Bailiwick.
Politicians will debate the plans in April.