Sark considers undersea electricity cable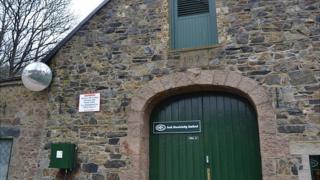 An undersea cable to provide Sark with cheaper electricity and high speed internet access is being suggested by the island's government.
Concerns over the high price and future of electricity supplies were raised in a survey of the island's residents carried out in 2012.
The cable to Guernsey would enable Sark to import energy from France via the cable links to Jersey and onto France.
Two public meetings to explain the plans are being held on Thursday.
Chief Pleas has consulted with the States of Guernsey and Guernsey Electricity which, through the Channel Islands Electricity Grid, has installed the other undersea cables in the islands.
Electricity prices
Standard tariff per unit
Annual standing charge
Sark
59p
£24
Guernsey
17.68p
£71.90
Jersey
14.50p
£57.63
Isle of Man
16.25p
£54.75
Average for the UK
14.05p
£69.97
A Policy Development Team spokesman said: "It's our opinion that this opportunity must be taken now as we believe the current supply arrangements are becoming both unsustainable and unaffordable."
He said the work would be paid for by the Sark consumer through their electricity bills and they planned to pursue a loan for the work, possibly from the States of Guernsey.
"At the backbone of any successful economy you have a reliable, affordable and sustainable supply of electricity," said Derek Lickorish, chairman of National Energy Action and advisor to the Sark government.
"Through a subsea cable from Guernsey this could now be a reality for Sark with low carbon energy from the European mainland.
"There are still some challenges ahead but given a unity of purpose from the community and support from other key stakeholders it is within Sark's grasp, with the added bonus of a reliable high-speed broadband connection as well."
---
Electricity in Sark
First customers were connected in 1948 by the Robson Electric Supply Company
Fifty five properties had been connected by Christmas 1948
The DC system was converted to AC in 1960, which allowed islanders to run televisions
In 1969 the firm was taken over and became the Sark Electric Supply Company
It became Sark Electricity Limited in 1997
Four generators supply the power, with two of them able to handle the island's maximum load on their own
---