Investigation into £50m Condor ferry damage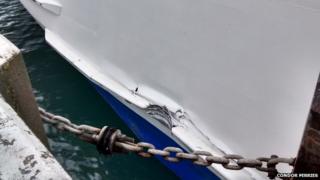 An investigation is under way into how a £50m ferry was damaged while attempting to dock in Guernsey.
The Condor Liberation struck the quayside at St Peter Port suffering minor damage, in windy conditions, on Saturday afternoon.
Afternoon sailings were cancelled and it returned to Poole for repairs.
A joint investigation between Condor and Guernsey Harbour Authority to find out what happened is now in progress, the BBC understands.
'Maiden voyage'
No-one was hurt in the collision.
While the Liberation is being repaired, the Commodore Clipper will provide passenger services between the UK and the Channel Islands.
The company said the vessel suffered "minor damage above the waterline" and as a result, would be out of action for a couple of days.
Condor Liberation completed its maiden voyage to Jersey on Friday.
The 102m (335ft) long vessel was built by Austal shipbuilders in Australia and can carry up to 880 passengers and 245 vehicles.
It is now the only fast ferry operating between Guernsey, Jersey and the UK.
The Liberation is supposed to be able to operate in bigger waves than the smaller ferries but is not yet licensed to do so.