Liberation ferry repairs delayed by poor weather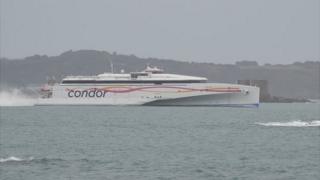 Bad weather has hampered efforts to repair a new £50m ferry which crashed on its second day in service.
The Liberation - which is meant to sail between Poole in Dorset and the Channel Islands - struck the quayside in Guernsey in high winds on 28 March.
Owners Condor said conditions had meant essential welding work could not be carried out as planned.
Passengers due to travel on the Liberation would have to use alternative vessels, they added.
Those travelling on slower vessels could claim compensation if they were inconvenienced, the firm said.
Condor added that it hoped the Liberation would be back in service on Sunday.