Engine fault causes more disruption to new Condor ferry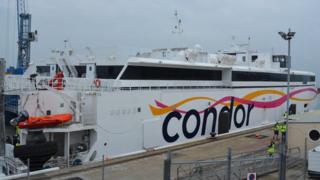 The sailings of a new £50m ferry have again been disrupted due to a fault with one of its engines.
Condor Ferries cancelled sailings from Guernsey to Jersey on the Liberation because of a recurring electrical fault which appeared on Monday.
Condor said it was "currently running at reduced power and is slower than scheduled".
Last month it was put out of action on its second day in service after it struck the quayside at St Peter Port.
Some passengers have been transferred on to other services and Condor has rescheduled sailings between the Channel Islands and Poole for the next two days.
Day trips from Poole and from Jersey to St Malo have also been cancelled.
Liz Dene was one of the frustrated passengers affected by the problems and says it was difficult to get an update on the situation: "The onboard communication is awful as staff don't know what is going on and just keep saying that everything must be routed through their Poole offices."
Condor Ferries said: "It deeply regrets any inconvenience caused and is working to resolve the issue."