Guernsey States homemade drugs warning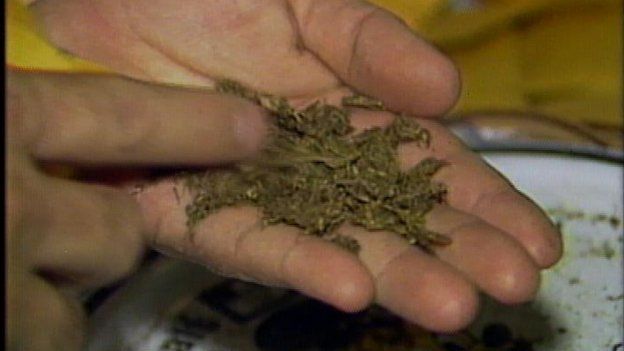 Guernsey States and a local campaign group are warning islanders about the sale of homemade drugs.
The Home Department said the herbal-like substances were causing effects including chest pains and vomiting.
The warning follows reports from the Guernsey Drug Strategy Campaign group (GDSC) of the sale of synthetic cannabis laced with acetone.
Guernsey Police says it has not received any reports relating to the drug, but is seeking more information.
The force says it has seized a number of substances, which it is analysing, but believes it may be the product of concern.
One young islander, who did not want to be identified, told the BBC he had a seizure after taking the drug salvia at a party.
"I was at a party with some mates. It was being passed around and I smoked it and then, about five minutes after it, I blacked out.
"I didn't have any idea what was going on... I didn't know where I was, what time it was, what my name was, what month it was.
"I could barely speak. My legs were shaking my heart was racing, my head was spinning. I was petrified.
"I was told by the emergency services that if I wouldn't have started breathing again for a few seconds I would have died there and then.
"I wasn't angry when I woke up... I just felt a bit stupid for taking the risk with something that I knew is quite dangerous... I was aware of this legal high that was going around and I should have just been more careful.
"I don't know if the experience I have had with this substance will change how I feel about other drugs. I've smoked cannabis for quite a while now and I've never had a bad reaction to it, but it has definitely opened my eyes to trying these so-called legal highs."
Lucia Pagliarone from GDSC, a group aiming to legalise cannabis, said the drug salvia was mainly affecting young people.
"We've been told the drug has been going around for a month or two and people are being hospitalised, which is really worrying."
Andrea Nightingale, Guernsey's Drug and Alcohol Strategy coordinator, said: "Please think carefully before buying substances that are completely untested.
"They could be extremely harmful and there is no way of telling."
Related Internet Links
The BBC is not responsible for the content of external sites.