Alderney surgery raid: Medical experts brought in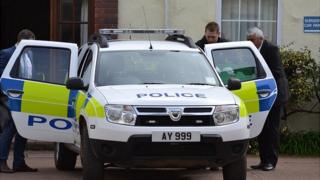 Independent medical experts will examine patient records seized in raids in Alderney earlier this month.
Guernsey Police raided the Eagle Medical Practice and a private address on 2 April after concerns were raised about four deaths in the island.
Chief Patrick Rice said: "The impact on the families involved in this investigation has been substantial."
He repeated an assurance that only the medical records of those who died had been removed by police.
Mr Rice said since the raids "a number of concerns have been raised by members of the community" and he hoped to answer them.
He said the 10 officers sent to Alderney included detectives, a family liaison officer and a neighbourhood policing sergeant.
Mr Rice said: "While I can appreciate that it was a shock to some residents to see this many officers in Alderney, I am comfortable that the operation was handled proportionately.
"That is why an investigation is necessary, to determine if any criminality has taken place... it is not the sort of work that can be completed in haste."
Mr Rice said an investigation had also been launched to identify the source of a leak, through which BBC journalists were told of the raid before it took place.
He said: "I did not take that decision lightly; however, this went far beyond your average leak of information.
"It was one of the most irresponsible I have ever come across and the source crossed a line when they put a significant police investigation at risk.
"I am grateful the BBC took its responsibilities seriously and did not act on the leak with the same recklessness that was displayed by the person who provided it to them."