Guernsey La Mare rebuild report criticised by union and PTA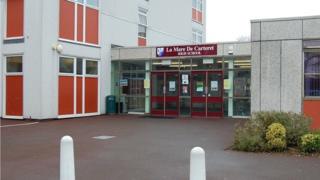 Proposals to cut secondary schools in Guernsey for a rebuild of La Mare de Carteret school have been criticised by a union and PTA.
A review into the £60m rebuild has said it was only "viable" as part of a wider rationalisation of schools.
Guernsey Grammar School's PTA met the Treasury and Resources Department this week after concerns were raised by parents and staff about the plans.
Gordon Snell from the PTA said: "There are major concerns Grammar will shut".
He added: "Parents with younger children are particularly concerned and teachers are really worried about what their jobs will entail.
"They were employed to work in a school that runs from ages 11-18, if this split happens they may no longer be teaching 17-18 year olds."
The redevelopment of La Mare de Carteret follows the rebuilding of Les Beaucamps and St Sampson's.
It could see pupil numbers increase from 600 to 900.
Caroline McManus from the teaching union NASUWT said she was disappointed with the review.
"It's a very emotional subject, there's a school which is currently not fit-for-purpose and the review left students and teachers uncertain over their future."
The rebuild project is scheduled to be completed before September 2017.