Treasury warning on Guernsey La Mare schools rebuild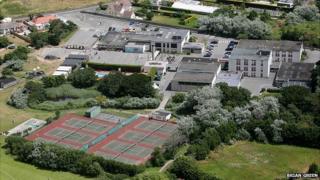 Finance chiefs say they will block £59m plans to rebuild La Mare De Carteret Schools unless the number of secondary schools is cut from four to three.
Treasury Minister Gavin St Pier wants La Mare de Carteret High School to be for 960 pupils instead of 600.
He told the Education Department that increasing pupils numbers would be "better value for taxpayers".
Education Minister Robert Sillars said the Education Board found it "difficult to comprehend" the objections.
'Beyond repair'
He pointed out that the La Mare revamp included the possibility of an extension.
"What we are proposing to build at La Mare now does not preclude Treasury's preferred option for a 960 pupil school in the future.
"Our proposals to build a 600-pupil secondary school allow full flexibility to expand the school.
"What we can't do is delay the rebuild of La Mare de Carteret schools any longer... They are simply beyond repair and we cannot allow yet another generation of children to be educated in such sub-standard facilities."
Mr St Pier said in a letter to the Education Department: "It will be considerably better value for taxpayers for a school of this size to be designed and built from the start in a single phase, rather than building one now for 600 and extending it later in a second phase."
The Education Department will be seeking approval from the States at the end of May to go ahead with redevelopment of La Mare de Carteret Schools which includes La Mare de Carteret Primary School.