Noise complaints over Guernsey Police firearms training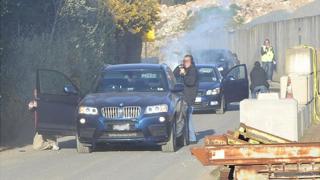 Residents in the north of Guernsey have again complained about a lack of notice of a police training exercise involving pyrotechnics and simulated gunfire.
Complaints were made last year when a similar exercise was carried out in the same location at Northside, Vale.
Some residents took to the police's Facebook page, saying the unexpected noise was disturbing pets and children.
Police apologised but said the training had been publicised.
Letters were sent to nearby residents - although several posted online about not receiving one - and the training was publicised on local radio and via social media.
A police spokesman said the emergency services did not have any dedicated training areas so exercises had to be carried out with the support of land owners - in this case a business and so it had to be done outside working hours.
Insp JP Le Breton, chief firearms instructor, said: "This is a preferred venue because of its location because we want to minimise the impact on the public.
"We're aware we are quite noisy so we try and time it and limit it to a select time at a set location to minimise disruption to the public."
He said: "If we want to receive persons who are afforded routine armed protection, like royalty or the British-Irish Council summit then we need to be prepared to undertake security.
"Our skills are interoperable with UK police officers and our training programme is the same as the national police firearms training curriculum."
"We hope we never have to employ it," Insp Le Breton added.