Guernsey court jails money launderers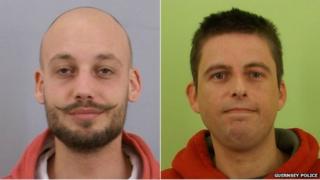 Two men have been jailed for attempting to smuggle more than 10,000 Euros (£7,000) out of Guernsey.
Sharif Van Kampen, 30, and Nathan Martel, 32, were both charged with five counts of money laundering and a cash controls offence in the Royal Court.
Van Kampen was given 15 months for money laundering and nine months for cash controls to run concurrently.
Martel was also charged with the possession of controlled drugs and sentenced to a total of 27 months.
The court heard Martel arranged for Van Kampen to travel to the island from the Netherlands in order to collect just over 10,000 in Euros for the purpose of smuggling it out of the island.
Van Kampen was stopped at the harbour by border agency officers.
During a subsequent search of Martel's home address a combined weight of 47g of cannabis resin and herbal cannabis - with a street value of up to £1,175 - was found, which Martel admitted were his.
The Royal Court recommended Van Kampen be deported on his release from prison.