Portuguese rapist Jose Pinto deported from Guernsey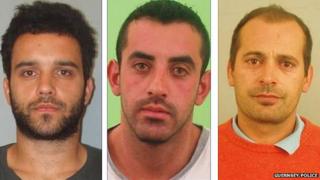 A rapist who was convicted with two other men of raping a woman in her 20s has been deported to Madeira.
Portuguese national, Jose Pinto, 43, was convicted of raping the woman in St Peter Port, Guernsey, along with Bruno Loreto and Ruben Almeida, in 2012.
Guernsey Police said it was a "vicious attack on a vulnerable woman".
Pinto served three-and-a-half years of his eight-year sentence. He was found guilty after a trial at Guernsey's Royal Court.
As part of the sentence, the Royal Court recommended he was deported upon his release from Les Nicolles Prison.
He was escorted by a Guernsey Border Agency officer and a police officer, on a flight to Gatwick and then another flight to Madeira, Guernsey Police said.
The two other rapists convicted alongside Pinto both received 10 year sentences, with the Royal Court also recommending deportation when they are released.