Guernsey to draw up plans for e-cigarette regulation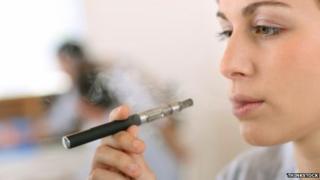 Guernsey's government has backed plans to move towards the regulation and control of electronic cigarettes.
The move forms part of the island's tobacco control strategy for the next five years.
The agreed strategy also includes proposals to ban smoking in children's playgrounds and designated outside eating areas.
The island's health department will now draw up more detailed plans for further approval by the States of Guernsey.
Concerns were raised in the strategy that e-cigarettes could be a "gateway to tobacco use".
The strategy aims to reduce the number of smokers in Guernsey and Alderney to 5% or less of the adult population.
Public Services Minister Paul Luxon said "since 1988 smoking stats have shown that smoking incidence has reduced" and he wanted to give "that trend a chance to continue".
Also agreed in the proposals was a move towards banning smoking in cars carrying children and smoke-free grounds in States properties.
Guernsey will also now work towards plain packaging for cigarettes and an increase in excise duty on tobacco products by 5% annually between 2016 and 2020.
During the States debate on the plans, Deputy Elis Bebb proposed banning smoking within 4m (13ft) of public buildings.
He said it "would create an expectation that when people walk through town they would walk through a smoke-free area".
This proposal was rejected by States members, including Deputy Roger Perrot, who said he was "fed up of government interfering with every aspect of our lives".