Condor ferry cancellations for Liberation Day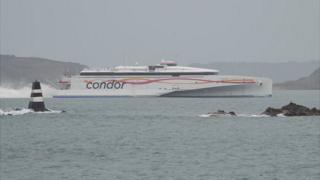 Some Channel Islands ferry services have been cancelled for Liberation Day due to an issue with a new vessel.
Condor Liberation was given its name to mark the 70th anniversary of the end of the occupation in World War Two, 9 May.
The ferry firm said it was awaiting spare parts for one of two bow-thrusters, "essential" to manoeuvring.
It said this and the forecast meant Saturday morning's services between Poole and the islands would not run.
The company said the evening services would continue as scheduled.
The ferry, which entered service in March, struck the harbour quay in Guernsey on its second day in service and while that is being investigated it is restricted in what weather it can dock in.
Other problems with the engine and a ramp, as well as delays caused by bad weather, led the company to apologise to customers for a "very disappointing start" to the ferry's service.